First:
It's my Daddy's birthday today. No matter how old I get I don't think I'll ever stop being Daddy's little girl! He's the bestest!
He Walks me down the Aisle
For practice and for realz... then we danced :-)
We take awesome pictures in the mountains ...
... and at NJ horse tracks
He still loves his mama!
And he gives good toasts. Pictures are proof
These are the only pics I could grab of FB today since my silly Mac is having some issues....
Second:
Side note, looking through all my FB picture albums made me chuckle at what I used to think was "cool" in college and such :-)
Third:
You Guessed it!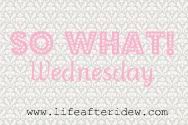 So What If:
Our kitchen is in our dining room -- I know I've been saying that for a month, but I'm for real this time! Hubs took out part of the door frame and moved the stove, dishwasher, and refrigerator into the dining room yesterday. Today, he has removed the sink, counters, and most likely the floors.
Daisy looks like her eyes might pop out after playing in the yard for 15 minutes
I miss college a little bit right now. It's the first week of class at my Alma Mater and I've been thinking today about all the great times we had, the happy moments, the next to zero responsibility... you know, college.
I put this little number on the chalk board at Menchies last week...
That's all I have for today :-)
A short and sweet "So What" but it was still fun!
Link up with Shannon at
Life After I Dew
and enjoy your own "So What"!
Tata for now!
Susie Q