Happy Wednesday
You know what that means! It's time to link up with
Life After I Dew
!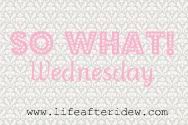 So What if...
I've worn my hair "wavy" all week because I'm too tired and would prefer 10 extra minutes of dozing instead of drying my hair... if only I could figure out how to do both
I bought 4 dresses last weekend -- I already wore 3 of them :-)
I'm going to work a wedding until 12:30 AM Monday morning and then wake up at 5:45 AM again to volunteer for the Peachtree -- it's a sickness. I don't know what rest is
Husband REALLY wants me to do the Turkey Day half marathon with him and all I can think about is how painful running that long sounds... and a large fear of failing cloud rolls over and sits on top of my head every time we talk about it
Husband will probably read the above statement and tell me there is no cloud on top of my head...
I ran by the cake store on the way home from the gym and saw they were making red white and blue cakes for the 4th and immediately started thinking about ways to conveniently NEED one of those cakes....
I'm already counting the hours to the long weekend.
My new favorite thing is home made sweet potato chips... BFL style
If my arms started hurting 5 hours ago from the workout I did 9 hours ago... I just don't want to know what tomorrow will feel like.
If I brought my recycling into the office because I don't have a better place to bring it now that my BFF moved to the "ghetto"
What are you saying "So What" to this week?