Hello Everyone,
I've been slack on posting this week... which is good, it means I've been busy... I like to be busy...but it's time for SO WHAT WEDNESDAY! Try it, I know you'll like it...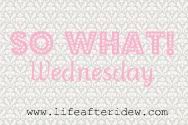 So What If:
I am already dreading next Monday, my boss hasn't put together the board packet, is leaving town early tomorrow morning, and is working on it over the weekend... which means I will get to work at 6AM and Frantically be putting together a packet before our 7:30 board meeting...who wants to come?
I haven't blogged since last week even though I have lots of ideas
Our dog chews up every toy she ever gets, even the ones with "Chew resistant technology"... my arse durable toy! my arse!
I would like nothing more than to eat chocolate, lots of it, preferably in the form of cookies, or reeses ... I've been craving sugar like a crazy person lately! It's probably the diet, no sugar on BFL.
We've not gone to the gym once this week... opps. I did go for a 2.5 mile run yesterday! -- short, but I jogged/ran the whole thing, no walking!
I threw BFL out the window today when the catering woman from Highland Bakery brought cookie samples to the office... see the craving "so what" above
HGTV is on our TV almost all the time in the summer...
What are you saying "So What" to? Does your dog chew all her babies? Do you have times where you might be OK with being overweight for a cookie or two?