Hey Everyone,
It's that time of week again! I love So What Wednesdays, they remind me that I'm half way through the week and getting close to a Saturday filled with painting with the Hubs... yes, we have to get ready for our new counters... I promise a before shoot is coming!
Go link up with Shannon and tell us what your "So What"'s are this week!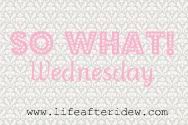 So What if:
I'm a little bit jealous that my boss is going to a meeting tomorrow that requires a security clearance... like for real, he'll be next door to the white house and I had to give them his SSN to get him in!
I think you should always wear cute clothes to the gym... it makes me work out hard if I like what I see in the mirror (I know, so vain)

To bad all my clothes are too big...

I loose every game of words with friends... every.single.one.
Daisy ate the mail last night... at least it was the credit card offers... she's just helping us clean up our junk mail
I have primer in my hair... you try priming over 22 cabinets with deep spots you have to stick your whole arm into to paint the wall...
I won't dye my hair because I can't stomach the $100 maintenance every 6 weeks...
I don't have very many "So What's" this week
Hope you're all having a great Wednesday! I hope to have a before post about the kitchen out tomorrow!
Like,
Susie Q.